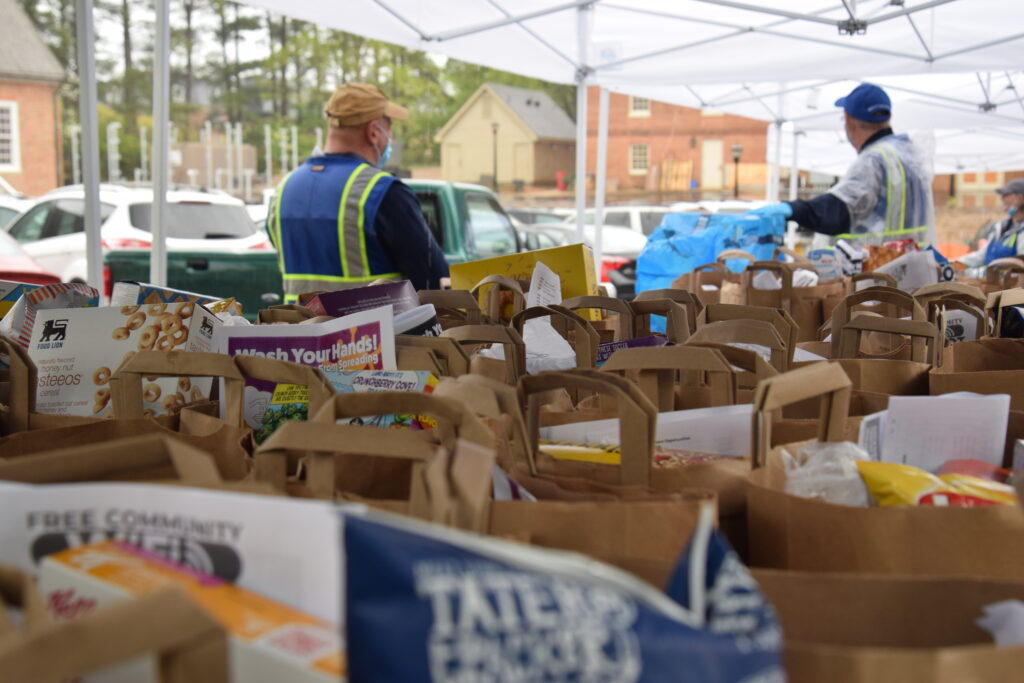 Working with community leaders, the Williamsburg Community Foundation has created a Community Emergency Response Fund to help local resident impacted by the COVID-19 Pandemic in the greater Williamsburg area. City of Williamsburg Vice Mayor Douglas G. "Doug" Pons and Councilman Benming "Benny" Zhang personally pledged $10,000 to seed the Community Emergency Response Fund. The Williamsburg Community Foundation also committed $10,000 to the effort, thanks to the Genevieve K. Meder Trust, which was created to assist local people in natural disasters such as the COVID-19 pandemic. 
The Community Emergency Response Fund has provided flexible grants to nonprofit organizations that provide direct services to our community's most vulnerable citizens and support basic needs. This includes our service area of the City of Williamsburg, James City County, and upper York County.  
Grants from this fund provide local nonprofits with funding to help those residents most in need due to the economic downturn resulting from COVID-19. This could include seniors, children, those with health conditions, and those who work in tourism and hospitality. These grants will help those nonprofit organizations that directly assist residents who are disproportionately affected by the pandemic, and who may be in need of food, shelter, utilities and housing, or healthcare. 
[/cs_content]
UPDATE: $210,100* in grants have been distributed so far from the Community Emergency Response Fund to 3e Restoration, Arc of Greater Williamsburg, Avalon Center, Bacon Street Youth and Family Services, Center for Child and Family Services, Colonial Behavioral Health, Community of Faith Mission, Inc., FISH, Foodbank of the Virginia Peninsula, Grove Christian Outreach Center, Hospice House and Support Care of Williamsburg, Housing Partnerships, Peninsula Agency on Aging, Peninsula Pastoral Counseling Center, Rx Drug Access Partnership, Salvation Army, Williamsburg Faith in Action, Williamsburg Area Meals on Wheels and Williamsburg House of Mercy. Read more about the first,  second,  third,  fourth,  fifth and sixth round of grants.
*Additional support provided by two other funds at WCF: $5,000 from the Genevieve K. Meder Fund and $5,592 from the Benjamin R. Altshuler Memorial Fund.
Williamsburg Community Foundation communicates with local nonprofits, the Williamsburg Health Foundation, and local government agencies to ensure that grants from this fund reach targeted populations most effected by COVID-19. Grants from this fund are not provided to individuals, as individuals may seek assistance directly from agencies that receive grant funds.  
Thanks to generous donors, over $250,000 has been raised for this effort.  The Foundation has waived its normal administrative fee, so that all funds received can be used to directly support our local nonprofit organizations  In the future, if funds raised through the Community Emergency Response Fund are no longer needed for COVID-19 Pandemic relief, remaining funds will be reserved for future local disaster relief efforts.  
If you have questions about this fund, please contact Nancy Sullivan at ncsullivan@williamsburgcommunityfoundation.org or call 757-259-1660. 
Thank you to Everyone Who Has Donated So Far!
| | | |
| --- | --- | --- |
| Dr. & Mrs. Kenneth Adams | Laura & Vernon Geddy | Robert & Christine Piascik |
| Anne & Kenneth Allen | Paul & Charlotte Gerhardt | Paula Pickering |
| Catherine Dix Allen | Patricia Giles | Douglas & Melissa Pons |
| Rhonda Amtower | Guri Glass | Fran Pons |
| William & Sally Andrews | Neil Glenicki | Margaret Beck Pritchard |
| Karen Annoni | Ellin B. Gordon | Anne and Rex Prosser |
| Anonymous | Vincent Grassia | Lynn Pryor |
| Anonymous | Mr. J. Lesslie Hall III | Marion Reef |
| Charles Baker | Mr. Channing M. Hall III | Ms. Pamela Reiss |
| Nicholas Balascio | Joe & Leanne Harrow | Terry Ricks & Kathy Lamb |
| Mitzi Balma | Diane Hart | Marianne & Richard Rippe |
| Jayne W. Barnard | Barbara Haynes | Susan & Gary Ripple |
| Nancy Bartholomew | Marie Haynes | Gale & Bill Roberts |
| James & Sue Barton | Mr. & Mrs. H. Keith Henry | Caleb Rogers |
| Ann & John Beard | Bill & Donna Herman | Laurie Rokutani |
| Hope & Bobby Beck | Bonnie Hoopengardner | Mr. Mark Rollins |
| Marcee Beilstein | Kathy & Bruce Hornsby | David & Marilyn Ross |
| Hunt & Mary Berryman | Lee & Paula Hougen | George & Patricia Rublein |
| Roger Best | Andrew Huang | Van & Barbara Ruckman |
| Doris & Chip Bixler | Mrs. Yuwen Huang & Dr. Wei Yang | Meredith Russell |
| Daniel Blankinship | Ron & Heather Hunt | Kathleen Ruszkowski |
| Mr. and Mrs. Edward Blanks | Lynn Hunter | Mrs. Kristan Sammons |
| Donald & Sandra Boing | Carol Jakobovits | Ms. Katherine Sanders |
| Jan Brown | Rosemary Jasper | Anthony Savage |
| Clement & Cherry Brown | Susan Jennaro | Mrs. Bette Mae Schintzel |
| Virnell Ann Bruce | James Joseph | Larkin & Danny Schmidt |
| Peter Burke | Kay W. Kane | Robert & Sylvia Scholnick |
| James & Madeline Burkhardt | Joann Kansier | Mr. Paul Scott & Ms. Ana Maria Pascale |
| Susanne Calabro | Joan Keith | Deborah Secrest |
| Dian Calderone | Gretchen Kelley | Jaime Settle |
| Michael Carron | A. Kent Harrell & Kendall Kerby | Mr. & Mrs. Gary Shelly |
| Linda & Tim Caviness | Colleen Kearns | Dr. Junping Shi & Mrs. Yanjie Chen |
| Quinn Sale and Roy Champion | Clare & James Kitz | Kate F. Slevin & Robert F. Yeomans |
| Mr. Jie Chen & Ms. Weizhen Mao | Mrs. Charlotte M. Klamer | Claudia F. Smith |
| Suzanne Coffman | Mr. and Mrs. Bruce Knowles | Chris Smith |
| Ms. Lori Conen | Robert Koppe | Mr. and Mrs. Jack Snell |
| Tom & Sharon Connor | Mrs. Gary Krull | Gail Snyder |
| Mr. and Mrs. Anthony Conyers Jr. | Arlene Krupinski | Steven & Carter Sonders |
| David & Jeanne Corson | Mr. & Mrs. David Lennarz | Dianne & Roger Spearman |
| Paul & Pat Cox | Dr. Weihua Liu | Jim & Betsy Jo Spence |
| Chip & Becky Crews | Nancy Yang & Chaoyu Liu (Scinco Inc.) | Scott and Beth Stabler |
| William Crockett | Ron & Carolyn Lodzieski | Mr. Andreas Stathopoulos & Ms. Evgenia Smirni |
| Charles & Ginny Crone | Albert O. Louer | Paul & Bonita Stockmeyer |
| Robert Cumming | Lisa & Christopher Lucas | Nancy & Bill Sullivan |
| Maxine Cunningham | Carol Maginnis | Stuart & Georgette Swan |
| John & Julia Curtis | Louann Martin | Jane & Bob Taylor |
| Mrs. David Dawson | Friends of Monty Mason | Nicole Trifone |
| Fred Dellamura & Pamela Estelle | Susan Mason | Allen & Mary Turnbull |
| S. Jane deSolms | Ms. Gale D. McCune | Helen Van Cott |
| Ms. Shirley Devan | Eric McDonald | Jane Van Dyke |
| Mary Disalvo | Linda McLaughlin | Lucia Vinciguerra |
| Janice DiSanto | Ida McNamara | The Virginia Beer Company |
| Mr. Xue Dong & Mrs. Qingling Yang | Jane Medlin & Harry Burton | Mr. Harry Ward |
| Charles S. & Millicent P. Brown Family Foundation | Kerry & Peter Mellette | Mr. and Mrs. Stewart Ware |
| Nadine Dunn | Beverly Miele | Dr. Hans von Baeyer & Dr. Barbara Watkinson |
| Ron & Verona Dunn | Margaret Miller | Marilyn Watson |
| Nancy W. Dutro | Jeanne H. & Michael A. Millin | Virginia Wertman & Stanley Bolding |
| James & Martha Easton | Mr. & Mrs. Richard Minor | Jack & Judy Wickens |
| Andrew C. Edwards | Louise W. Minor & John A. Minor III | William C. Wilhelm |
| Kermit Eide & Roberta MacGregor | Carol Munro | Robert Willey |
| Patricia Dolan Ettus & Douglas Ettus | Susan Morrison | Williamsburg Health Foundation |
| Susan Evans | Mr. Wayne Moyer | Williamsburg Insurance Associates & Erie Insurance |
| Edward Farnen | Mr. Wen Guo Mu | Forrest & Chrissy Williamson |
| Susan Farrell | Friends of Tommy Norment | Jim & Dougie Winthrop |
| Dr. Xia Feng & Dr. Gexin Yu | Terry & Carolyn O'Connor | Douglas & Lois Wisniewski |
| Zhao Feng & Hai Zhao (New Oriental Crafts Co.) | Helen Oderisi | Dixie D. Wolf & Henry C. Wolf |
| Sally Jean Fisk | Lane Olson | Charles and Lisa Wood |
| Ms. Jodi Fisler | Virignia Green Lawn Care | Mr. Frank Wood |
| John & Sara Fogarty | Kim Orthner | Amy Xia |
| Imelda Foley | Christopher Peck | Ms. Karen Youshock |
| Rachel Frazier | Dr. Xuanxie Pei | Yingping Zhang |
| Charles & Corinne Garland | Nancy Perry | Han Zhang & Jinlan Liu Foundation |
| | | Benny Zhang |
| | | |
| | | |
| | | |
| | | |
| | | |
| | | |
| | | |
| | | |
| | | |
| | | |
| | | |
| | | |
| | | |
| | | |
| | | |
| | | |
| | | |
| | | |
| | | |
| | | |
| | | |
| | | |
| | | |
| | | |
| | | |
| | | |
| | | |
| | | |
| | | |
| | | |
| | | |
| | | |
| | | |
| | | |
| | | |
| | | |
| | | |
| | | |
| | | |
| | | |
| | | |
| | | |
| | | |
| | | |
| | | |
| | | |
| | | |
| | | |
| | | |
| | | |
| | | |
| | | |
| | | |
| | | |
| | | |
| | | |
| | | |
| | | |
| | | |
| | | |
| | | |
| | | |
| | | |
| | | |
| | | |
| | | |
| | | |
| | | |
| | | |
| | | |
| | | |
| | | |
| | | |
| | | |
| | | |
| | | |
| | | |
| | | |
| | | |
| | | |
| | | |
| | | |
| | | |
| | | |
| | | |
| | | |
| | | |
| | | |
| | | |
| | | |
| | | |
| | | |
| | | |
| | | |
| | | |
| | | |
| | | |
| | | |
| | | |
| | | |
| | | |
| | | |
| | | |
| | | |
| | | |
| | | |
| | | |
| | | |
| | | |
| | | |
| | | |
| | | |
| | | |
| | | |
| | | |
| | | |
| | | |
| | | |
| | | |
| | | |
| | | |
| | | |
| | | |
| | | |
| | | |
| | | |
| | | |
| | | |
| | | |
| | | |
| | | |
| | | |
| | | |
| | | |
| | | |
| | | |
| | | |
| | | |
| | | |
| | | |
| | | |
| | | |
| | | |
| | | |
| | | |
| | | |
| | | |
| | | |
| | | |
| | | |
| | | |
| | | |
| | | |
| | | |
| | | |
| | | |
| | | |
| | | |
| | | |
| | | |
| | | |
| | | |
| | | |
| | | |
| | | |
| | | |
| | | |
| | | |
| | | |
| | | |
| | | |
| | | |
| | | |
| | | |
| | | |
| | | |
| | | |
| | | |
| | | |