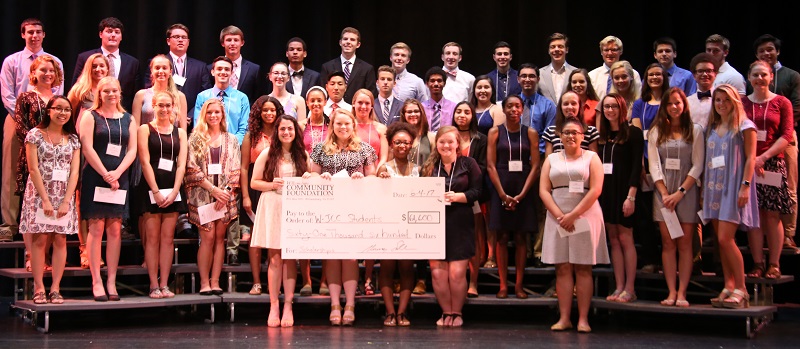 W-JCC Scholarship Fund
The WJCC Scholarship Fund provides scholarships for students graduating from Jamestown, Lafayette, and Warhill High Schools.
The application deadline for 2019 has passed.
Award letters will go out in mid-May, and all scholarships will be presented on Sunday, June 2, at 4pm, at Lafayette High School. All are welcome to attend.

Scholarships are awarded without discrimination, in consideration of these factors: curriculum difficulty, class rank, extra-curricular activities, application essay, and financial need. Please review the list of scholarships available, and remember this list will be updated as new scholarships become available.
It is not necessary for a student to show financial need in order to be eligible for a WJCC Scholarship Fund scholarship.
View Scholarships & Criteria
2018/2019
W-JCC Scholarship Fund Committee
Wilma Sharp, Chair
Becky Carvajal
Vince Clifton
Sue DiPette
Susan Edwards
Kristin Froehlich
Roy Geiger
Merry Guernsey
Shelby Hawthorne
Lisa Lucas
Karen Peterson
Pamela Rambo
Carter Sonders
Donald A. Perry Scholarship Fund – Virginia's Future Leaders Scholarship
In 2012, the Donald A. Perry Scholarship Fund was established at the Williamsburg Community Foundation.  The Virginia's Future Leaders Scholarship Program is a statewide education initiative of the Virginia broadband industry and the Donald A. Perry Foundation. For 16 years, the program has recognized and awarded scholarships to outstanding Virginia students.  This program is a one-time award and is open to Virginia residents attending an undergraduate 2 or 4 year program at a Virginia institution of higher learning. Please visit the Virginia's Future Leaders Scholarship Program page to learn more about how to apply.
Questions? Call the WCF office at 757-259-1660 or email Office@WilliamsburgCommunityFoundation.org.