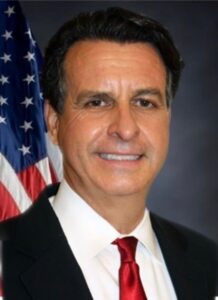 May 24, 2023 Williamsburg, Va. – Williamsburg Community Foundation is pleased to announce a new trustee who has been elected to the Board: Rick D. T. Overy. He brings a variety of skills to the Board, which oversees all aspects of the Foundation's work, from financial stewardship to effective grantmaking.
"We are very pleased to welcome Rick to the WCF Board, he brings wide ranging skills and expertise." Nancy Sullivan, President and CEO Williamsburg Community Foundation.
Born in Colorado, Rick Overy came to Williamsburg in 1982 and graduated from William and Mary Business School in Finance. He served in the White House during the Reagan Administration and then as Associate Dean of the William and Mary Law School. Moving to the private sector in 1997, Rick was licensed as a Financial Advisor with Legg Mason. In 2009, he founded the firm Compass Wealth Strategies where he leads a team helping client families in 15 states.
Rick was appointed by City Council to the Williamsburg Economic Development Authority in 2013 and served as its Chairman. He also served as the President of the Kiwanis Club of Williamsburg Foundation and was previously elected twice as a Director of the Colonial Soil & Water Conservation District. Rick has also served on the boards of the Friends of the Williamsburg Regional Library Foundation, the Greater Williamsburg Chamber, and Walsingham Academy. To help local charities raise money, Rick has performed as an auctioneer for over 25 organizations.
Rick's wife Lara is the Williamsburg Commissioner of the Revenue. They live on Capitol Landing Road and have three grown children.
To learn more about Williamsburg Community Foundation, please visit WilliamsburgCommunityFoundation.org or call 757-259-1660.
Media Contact:
Lee Folsom, Development & Communications Officer
Williamsburg Community Foundation
757-259-1660 (office), 757-254-4170 (cell)