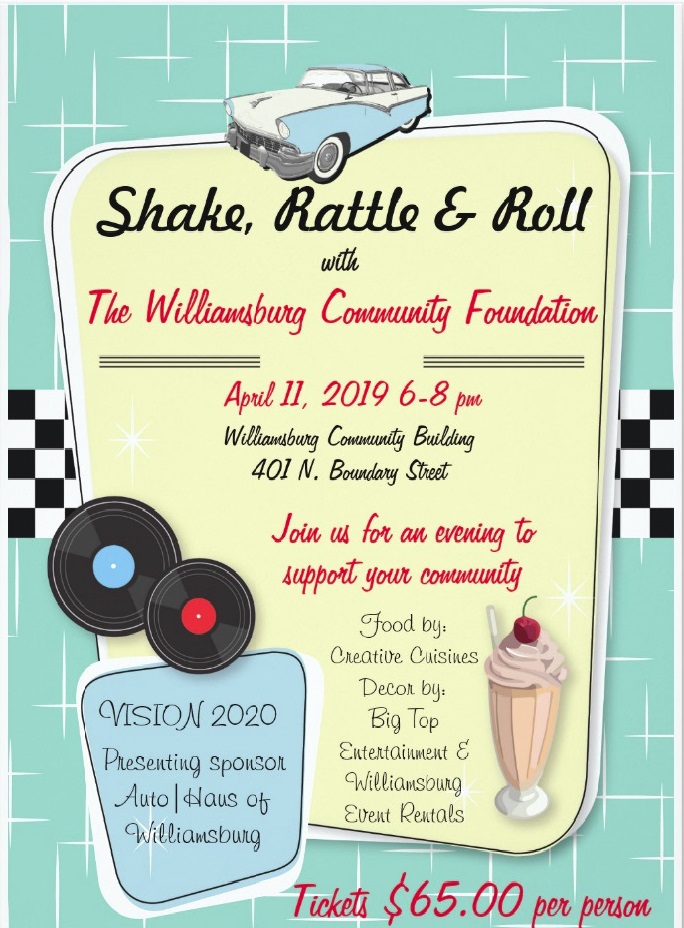 April 11, 2019, 6-8pm
Williamsburg Community Building
401 N. Boundary St., Williamsburg
We are thrilled to invite you to our annual evening fundraiser in support of the Williamsburg Community Foundation! We hope you can join us to "Shake, Rattle, and Roll!" on April 11 at the Community Building! Enjoy delicious food and drinks by Creative Cuisines, decor by Big Top Entertainment and Williamsburg Event Rentals. Enjoy this blast from the past while you support YOUR community!
Tickets: $65 per person – Dress is Casual!
*Please Note: You will not receive a physical ticket. We will have your name on our list when you arrive. No tickets will be sold at the door. Free parking is available on-site and next to the Community Building at the city garage. While there is no deadline to buy tickets, we would love to have your response by April 5 if possible.
Purchase Tickets
If you prefer, you may purchase tickets by phone with your credit card by calling our office at 757-259-1660.
Questions? Contact us.
We're excited to Shake, Rattle and Roll with you!
Thank you for your support!